STAFF VINTAGE MARKET Vol.2
The act of "inheriting" things has been one of our human activities since ancient times. We create things based on certain thoughts, and when we "inherit" those things to someone else, we also hand them a little bit of that thought.
In addition, in these days when the importance of sustainability is called out, such an act of "inheriting" must have a greater meaning.

Our store has a strong image of being an "import select shop", but in addition to clothing and miscellaneous goods from around the world, mainly in the United States, we also have a large selection of used clothing such as denim and T-shirts. All of our staff are enjoying their daily styling by mixing new and used clothes.
STAFF VINTAGE MARKET is an event to "pass on" our personal belongings to the next owner along with the staff's memories and thoughts.
SHINYA MAKINO【MAIDENS SHOP】
I often see wool, but I don't often see cashmere knits at LLBean. I think it would be interesting to wear a v-neck and color like an uncle with the current feeling.

30's MONTGOMERY WARD HALF ZIP PULLOVER

The point of this is "old" anyway. It's also good that it's full of details, such as chin strikes and half zips. This exhibition is one of the collections from Classic Outdoor.

80's LLBEAN BOAT AND TOTE (LEATHER HANDLE)

It's a standard item. Now, when I look for American-made leather handles, the number is decreasing and the price is starting to rise, but I made it a little cheaper because of this kind of opportunity, so if you are looking for it, please check it out.
SOUTHERN CROSS DESIGNS ALPACA CARDIGAN

This is the same uncle series. I felt like I was wearing FANNI LEMMERMAYER, which is also available at our store. It's secondhand clothes, so it's nice to be able to wear it without being too delicate. In terms of details, it is interesting that the V on the chest is made quite wide.

30's BLACK MOLESKIN WORK JACKET

I forgot whether it was London or Paris, but I bought it when I went on a business trip and wore it all the time. Artistic items that have been repaired are more highly rated than items that are in good condition, and because the color is black, the price has skyrocketed even locally. I am thrilled by the strong sense of one point and the oldness of the age.

Filson's hunting vest is often seen in khaki and beige, but you don't often see colors like this. I think it's probably rare. It's not an easy color to use, but I'd like you to try it.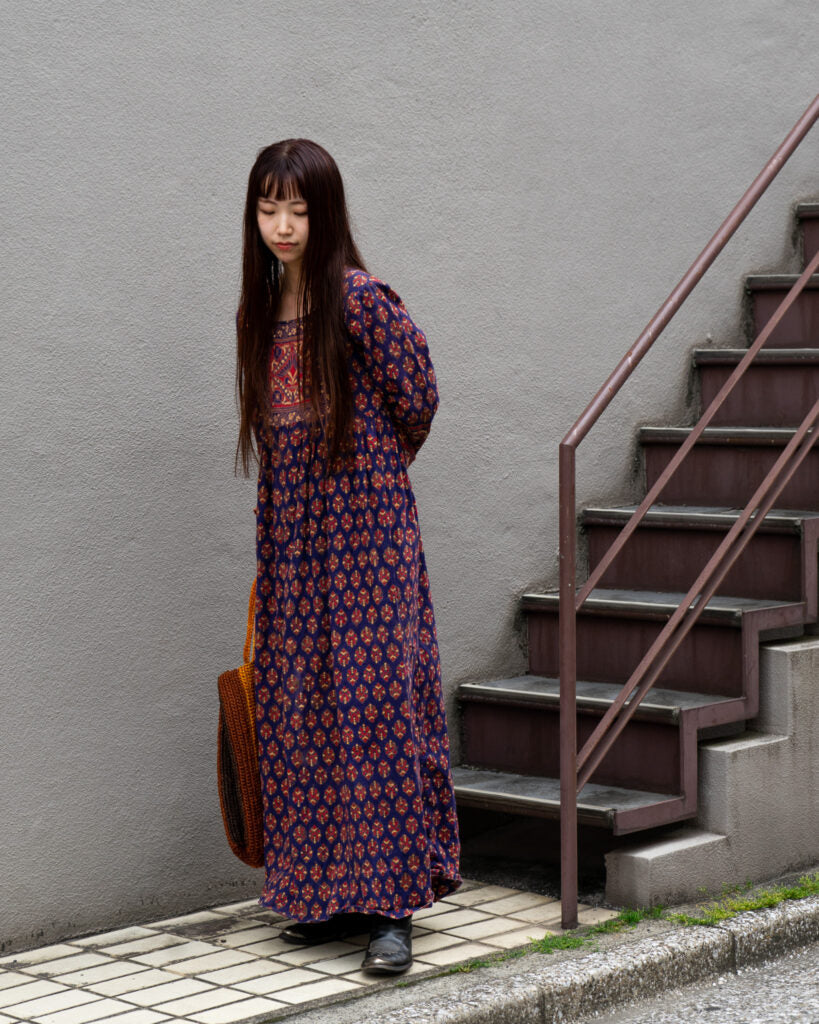 YASUKO FURUTA【MAIDENS SHOP WOMEN】
Although the top is made of mesh material, miumiu is not too sporty. I also like pure vintage, but isn't it the real pleasure of second-hand clothing that you can easily incorporate maison brands? You can wear it casually with denim, or wear it with black pants to match the mode.

I bought it because the patchwork combination and stitches are very nice. Estimated 70-80's. It can be used as an inner layer in a combination that is not often used nowadays, or as a main top in the summer, giving you a wide range of coordination.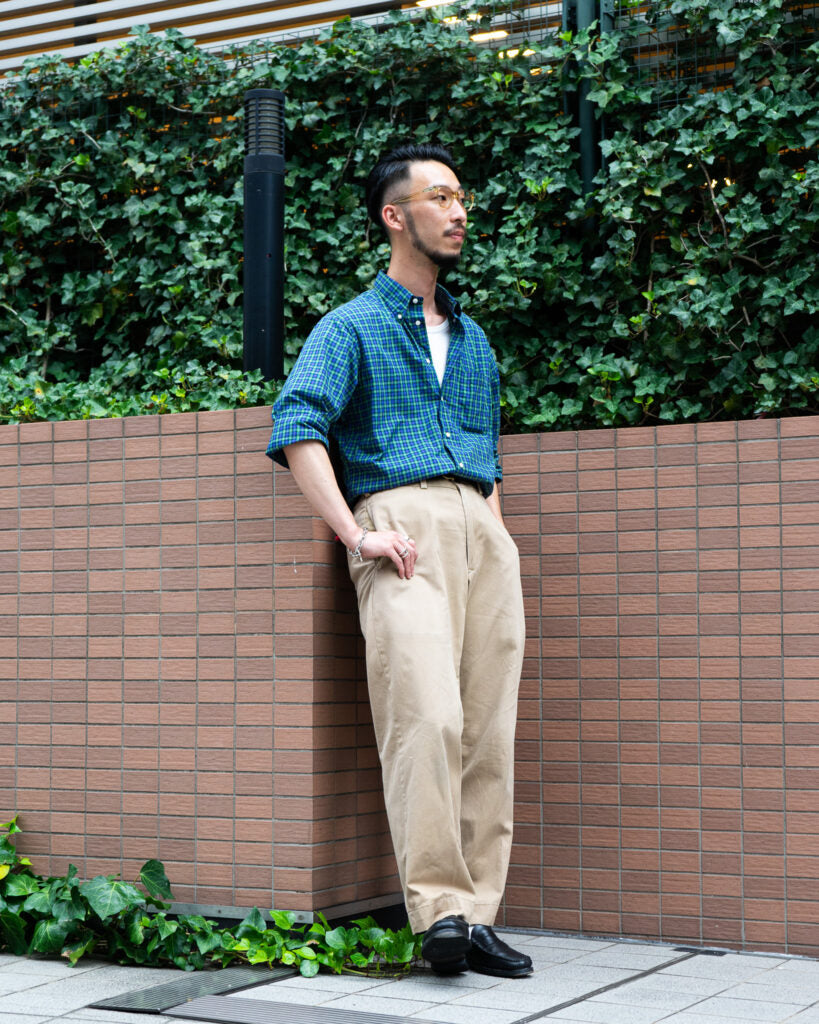 Yuto Takanashi [USONIAN GOODS STORE]
I bought it about 6 years ago. I think many people know Staple, but even if it gets wet, it dries quickly, so you can wear it on rainy days, and it doesn't get dirty easily, so I wore it like active wear. The waist is a little large, but if you tighten it with a belt, you can wear it without discomfort, so it is recommended for those who wear length.

It is being re-evaluated and the market price of second-hand clothing stores is also rising. This is a price that makes it easy for people who have never worn Staple to try it, so I hope it will be an opportunity for those who buy it to find new discoveries.
KAZUKI OTA [MAIDENS SHOP WOMEN]
~60's EURO GRAND FATHER SHIRTS

I bought this when I used to work at a second-hand clothing store.

I bought it because I thought it was a nice color and that the pattern is a lattice instead of stripes.

The length is perfect, not too long and not too short, so I hope you enjoy layering it.

I bought these 4-5 years ago, and I wanted overalls at the time, but I thought American denim ones were too unfashionable, so I looked for them at Eurowork.

I bought it because I liked the beautiful shape and the feeling that there was something classy about it even though it was an overall.

Since it is workwear, we recommend pairing it with a feminine blouse.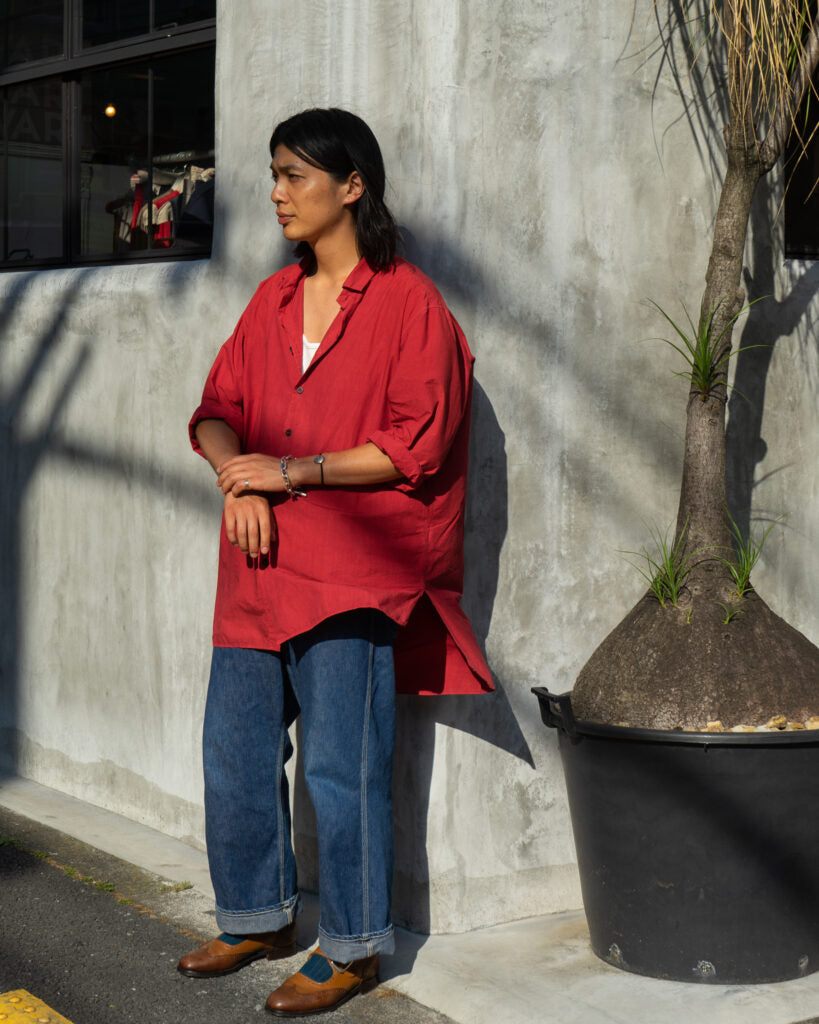 KOYO TANAKA【MAIDENS SHOP】
RYOHEI TAKAHASHI【THE STORE BY MAIDEN】
2013 Telluride Film Festival cap. A relative lives in Colorado, USA, and it is a memento that I bought there when I visited.

This film festival is seen as a prelude to the Oscars and Academy Awards, and as a film lover like myself, it was an eye-opening experience.

I don't think you can see this cap easily in Japan.

VINTAGE BROOKS BROTHERS Double-breasted BLAZER

I bought it at a second-hand clothing store in Saitama about two years ago. Probably a 90's bespoke blazer. It has a classical impression with a silhouette that has no waist shape that is not found in ready-made products.

I remember seeing Boyz II Men wearing a double blazer in some promotional video and thinking it was nice, so I bought it.
SHOGO TEZUKA【USONIAN GOODS STORE】
95's PATAGONIA COTTON MESH SHIRT

I bought it at a second hand store in Tokyo. This cotton mesh was not popular in Patagonia, and it seems that it was only produced in 1995, so it is not well known and the number of balls is small. I found a catalog from that time, and it said that it was made larger in consideration of the shrinkage rate, which is also unusual. I liked patagonia and collected it for a while, and I wore it with a T-shirt inside.

60'S WHIPCORD TROUSERS (RAYON/ACRYLIC)

I still love it so much that I regret selling it. (laughs) I think these are the pants I wore the most in 2021. It's acrylic rayon, so it's washable, and I like the classic silhouette.