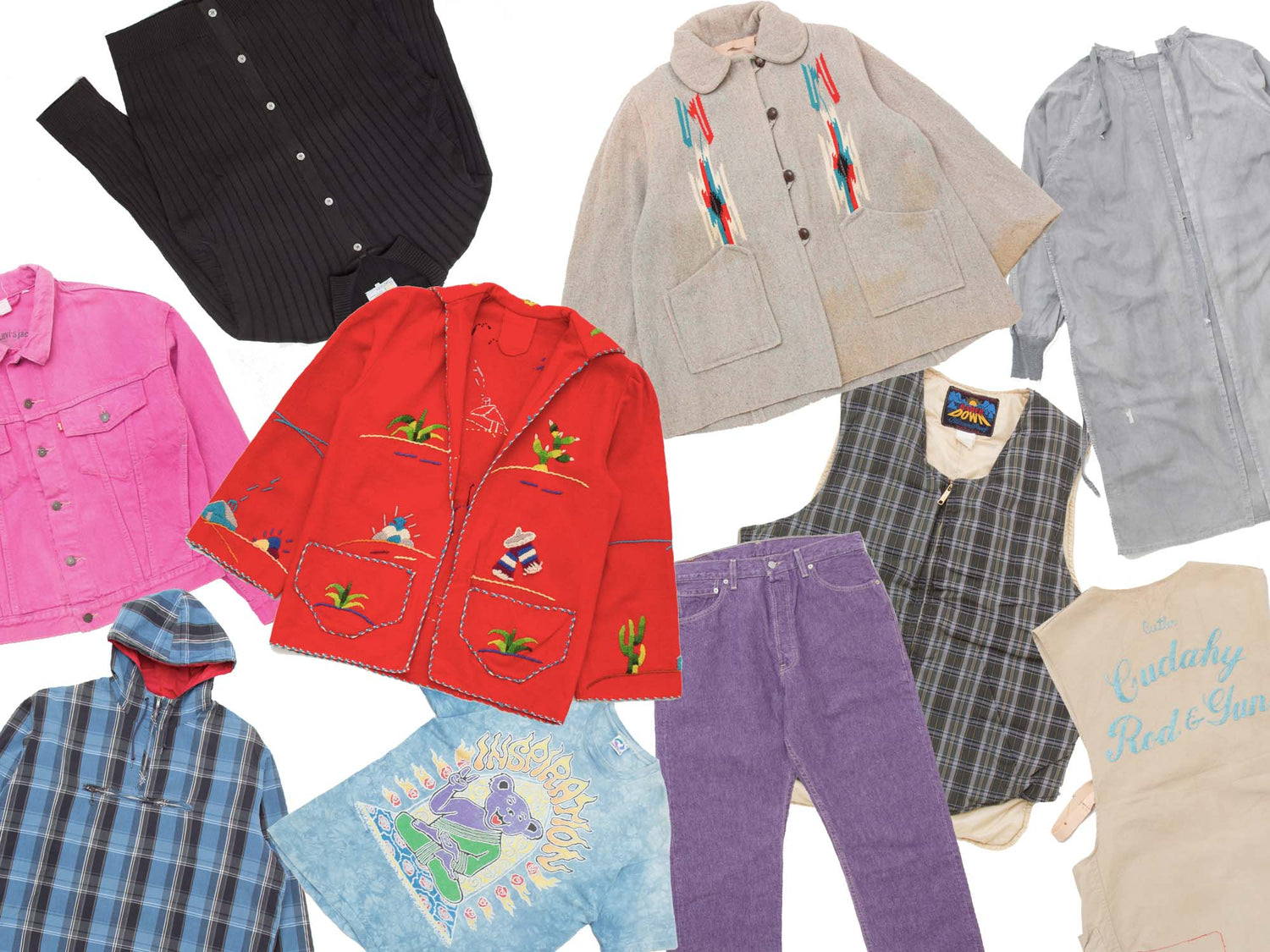 STAFF VINTAGE MARKET
The act of "inheriting" things has been one of our human activities since ancient times. We create things based on certain thoughts, and when we "inherit" those things to someone else, we also hand them a little bit of that thought.
In addition, in these days when the importance of sustainability is called out, such an act of "inheriting" must have a greater meaning.

Our store has a strong image of being an "import select shop", but in addition to clothing and miscellaneous goods from around the world, mainly in the United States, we also have a large selection of used clothing such as denim and T-shirts. All of our staff are enjoying their daily styling by mixing new and used clothes.
STAFF VINTAGE MARKET is an event to "pass on" our personal belongings to the next owner along with the staff's memories and thoughts.
SHINYA MAKINO【MAIDENS SHOP】
80's Peter Gabriel WORLD TOUR 1987 Tee


This is Peter Gabriel's MUSIC TEE purchased in NY. I don't particularly like this artist, but this was a complete design buy. Also, 1987 was the year I was born, so I felt something like a connection.

I like the color and color scheme of the 80's band TEE, but this one is outstanding.

I don't really want to sell it yet (laughs).

Chimayo jacket from the 50's. It's a women's match, but it's hard to find this size that men can wear big. I also like the color and pattern of the fabric. Although it has a natural color, various colors are mixed, and the pattern on the back is also a pretty dangerous pattern among Chimayo's jackets, isn't it? Bought from an antique shop in New Mexico.

Deadstock athletic wrestling shoes. The size is men's, but it's actually a women's size. I buy things that I don't mind if they're not my size, and this is one of them. I would be happy if women could use it as a high brand remover.

It comes with a well-designed box, so it is also recommended for those who want a collection like me.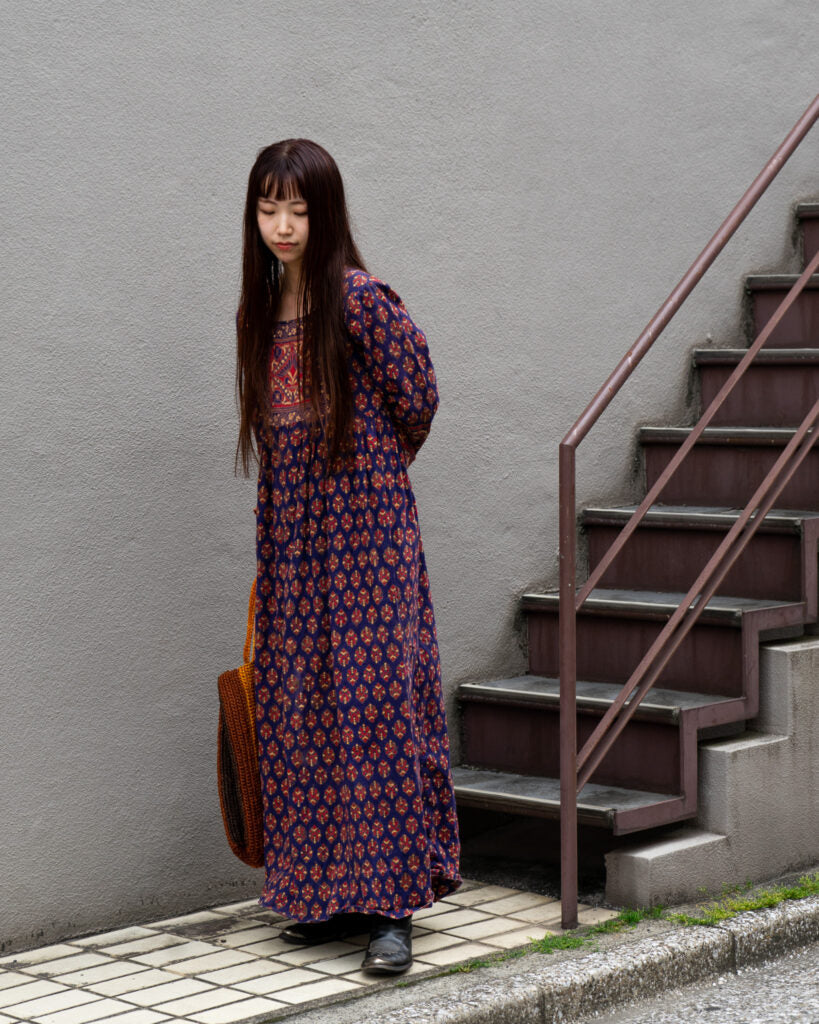 YASUKO FURUTA【MAIDENS SHOP WOMEN】
60's Mexican jacket. All handmade souvenir items are one-of-a-kind items that you can feel the warmth of. I love it and have collected several of them. We often see large designs on the back, but this one has small motifs carefully designed on the body, sleeves, and back.

80's Champion Reverseweave Sweat Pants

This reverse weave series, which has been improved to increase comfort and mobility, is popular with both sweatshirts and pants. There are many brands of sweatshirts that are easy to wear and have modern designs.

Vintage YVES SAINT LAURENT Mule

Purchased at a vintage shop in Osaka about 10 years ago. I really like the one-strap sandals, and the design is simple yet brings out your femininity. I bought it at vitntage, but it's still YVES SAINT LAURENT. They are very comfortable to wear, and I used to be able to stand for eight hours (laughs).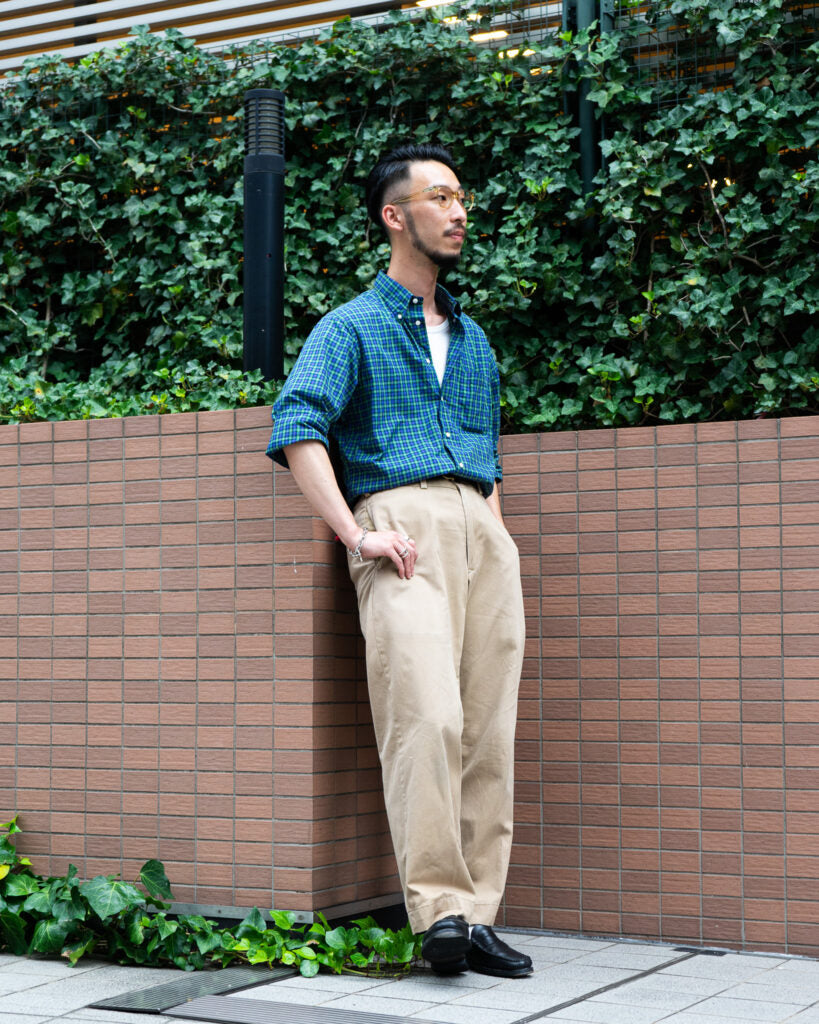 Yuto Takanashi [USONIAN GOODS STORE]
~90's Levi's Denim Jacket Pink Overdye

It's probably a piece-dyed pink denim jacket. I bought it at a second-hand clothing store in Machida. The front body is 3rd, but the back is a western yoke. Autumn and winter clothes tend to be dark, but I like colorful coordination, so I often wore it.

This is a 50's jacket that I bought at a second-hand clothing store in Shizuoka. It becomes a cursive tag. I usually wear a shirt on a daily basis, but I'm happy that I can wear it over it because the size is large. The point that it is easy to use because it is thin with a McKino type. The condition is also very good, and I had a customer say I want it at the store (laughs)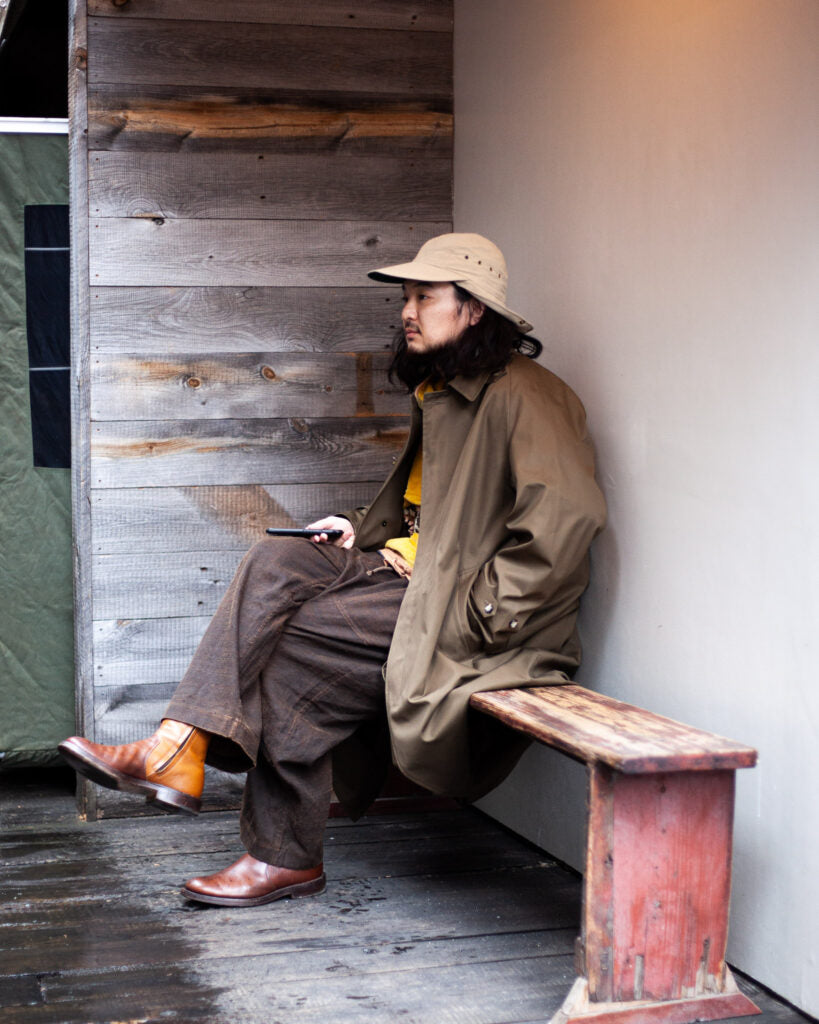 NAOTO SAI【THE STORE BY MAIDEN STAFF】
I bought it at a used clothing store in Shibuya about three years ago. Madonna tour cap from 1993.
I wasn't looking for it at Madonna, but it had a great taste as a tour item, so I bought it immediately.
It seems that this tour also had a performance in Japan, so you can sometimes find it in second-hand clothing stores.

However, I haven't been able to get a T-shirt with the same design yet, so I'm going to look for it patiently in the future.

Nine: THE MUSICAL T-shirt released in 2003.

It is based on the autobiography of director Federico Fellini, and has been made into a movie, so many of you may know it.

In Japan, it is a difficult item to see the goods themselves.

I also like the beautiful design, and it's a piece that has a lot of turns in the summer.
SHINNOSUKE MIYACHI【MAIDENS SHOP】
KAZUKI OTA [MAIDENS SHOP WOMEN]
This is a piece-dyed US military surgical gown that I bought when I worked at a second-hand clothing store. At that time, I started working on clothes for the first time, and it was a fresh piece that I could enjoy medical items as fashion depending on how I wore them.

It was also the one that made me realize the fun of clothes again.

When I was working at a second-hand clothing store, I went to the Farmer's Market in Aoyama and bought it there for the purpose of studying. A knit vest is convenient because you can wear it in most seasons except summer.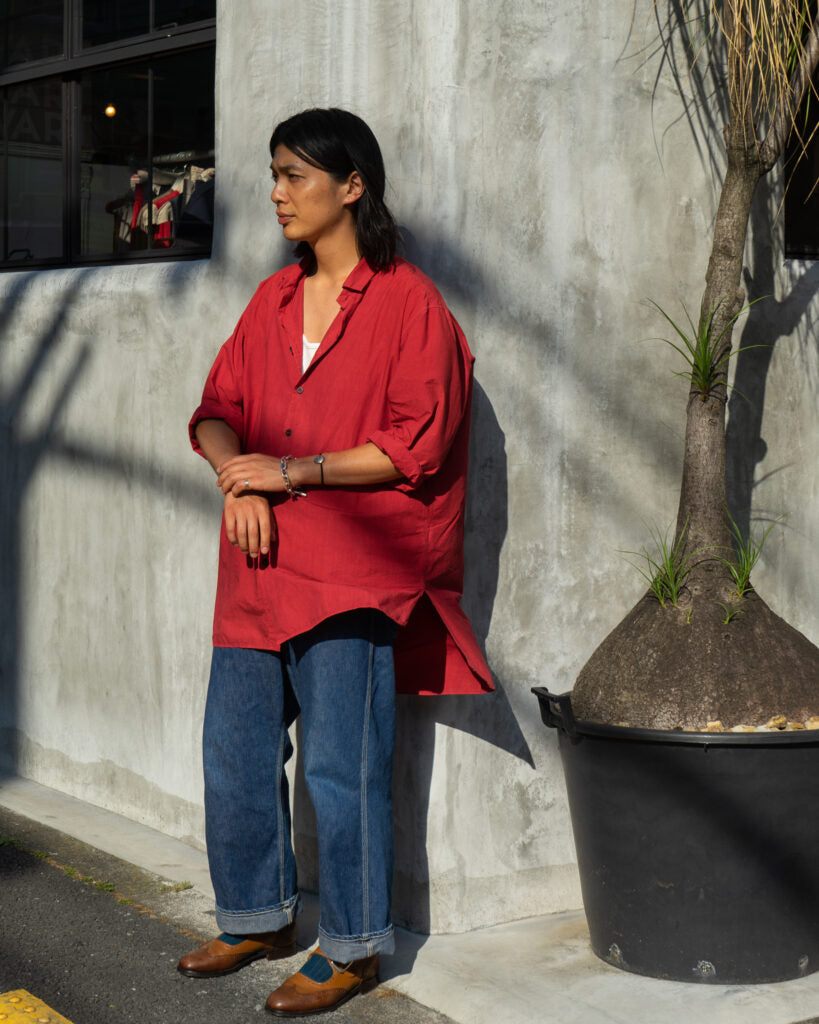 KOYO TANAKA【MAIDENS SHOP】
RYOHEI TAKAHASHI【THE STORE BY MAIDEN】
I bought it at a second-hand clothing store in Numazu four years ago. Originally, I liked old American Patagonia and often collected fleece, etc., but when I was looking for a hair band at the time, I found a bright red Patagonia one that caught my eye, so I bought it. However, I didn't take off the tag and kept it as Dedstock.
SHOGO TEZUKA【USONIAN GOODS STORE】
50's~60's Eddie Bauer Down Vest

I bought it at a second-hand clothing store in Koenji about five years ago. I really like Eddie Bauer, and this is probably the very first Eddie Bauer I bought.

The front is made of cotton, the sides are lined with ribs, and the lining is made of Rokuyon cloth.

The design is easy to match with a shirt.

Conversely, this is the last Eddie Bauer I bought. About a year ago? It's a women's fit, but if it's slim, it's a size that can be worn by men as well.

Eddie Bauer always creates items with a different atmosphere than other major outdoor brands, and that's what I'm attracted to.