STAFF STYLE -DENIM×T SHIRTS-
Our store selects and sells clothing and miscellaneous goods from all over the world, mainly in the United States, with our own sense.
Many people may have the image of an "import select shop", but we have a large selection of second-hand clothing such as denim and T-shirts. All of our staff are enjoying their daily styling by mixing new and used clothes.

This time, we will introduce the staff's everyday styling using denim and T-shirts in line with the mass arrival of denim and T-shirts.
The T-shirt is O'DEM. Illustrations of models, actors, and artists representing the 70's drawn by illustrator Mr. Yoda are printed on the 70-80s paki cotton body specified by MAIDENS SHOP WOMEN.

Denim wears USED Levi's517. Pair with stylish leather sandals for a simple yet sophisticated look.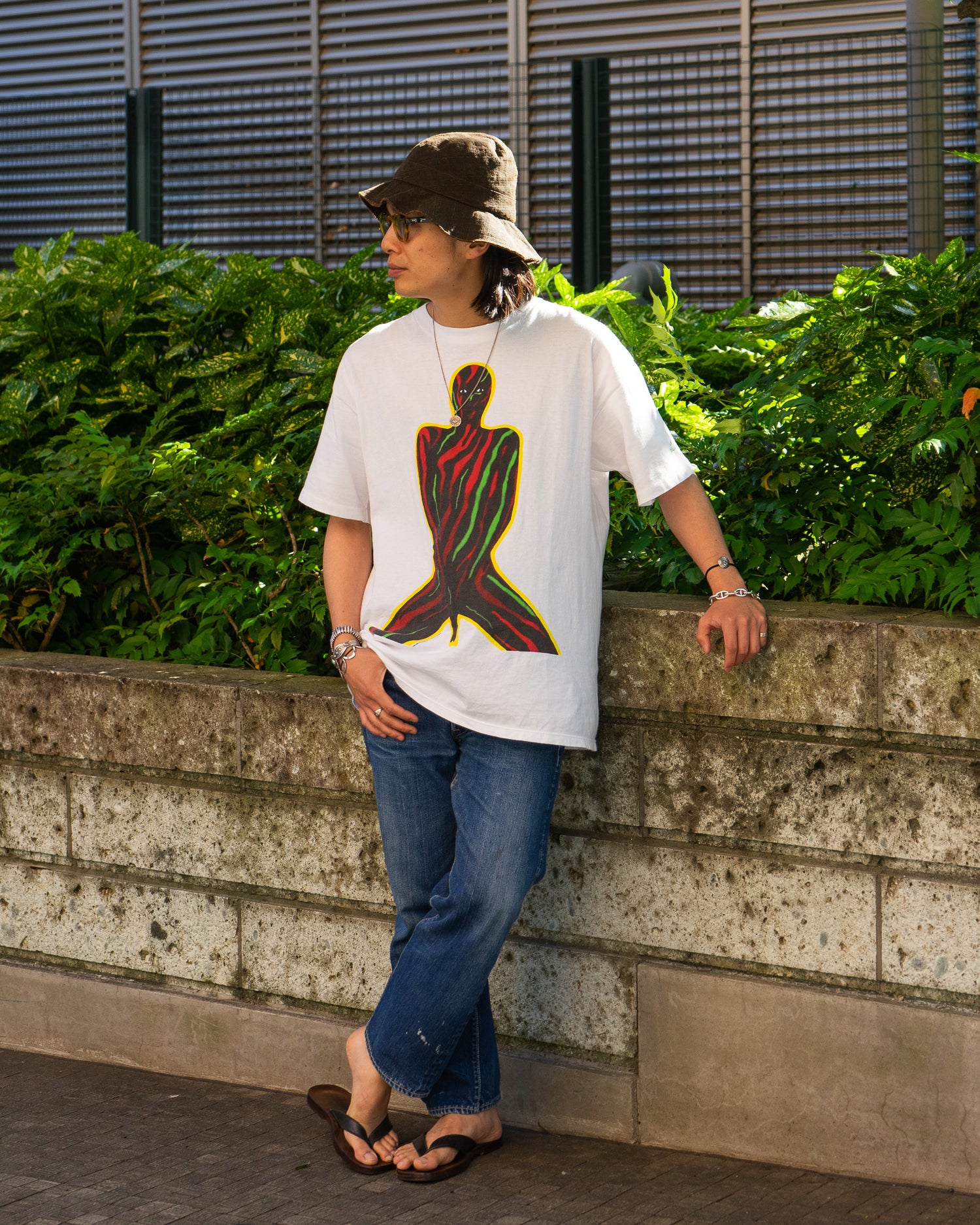 Koyo Tanaka
[MAIDENS SHOP STAFF]
・Tops: Vintage "a tribe called quest" Tee
・Pants: Vintage Levi's
・Hat: BEAUGAN
・Shoes: DIMISSIANOS & MILLER
・Bracelet: Vintage, JILL PLATNER , Hermès
・Necklace: HUNT NYC
Wearing a 90's VINTAGE T-shirt from the American HIPHOP group "a tribe called quest". It is quite rare that the size is large and the condition is good so far. I also paired it with a necklace from another American brand, THE HUNT NYC.

Denim is 60's Levi's 501 BIG E.

The leather sandals are from DIMISSIANOS & MILLER , which was very popular at our store this season. This season, the sole was changed to BLACK and released. The hat is made of BEAUGAN mud-dyed fabric.
Daisuke Isono
[MAIDENS SHOP STAFF]
・Tops: STORY mfg.
・Pants: Vintage
・Shoes: CASABLANCA
・Bracelet: JILL PLATNER
The T-shirt is Story MFG. Colorful embroidery is interspersed in monochrome graphics.

Denim wears USED Levi's501.

By combining simple coordination with a unique T-shirt, you can create original styling even in the summer when the number of items is small.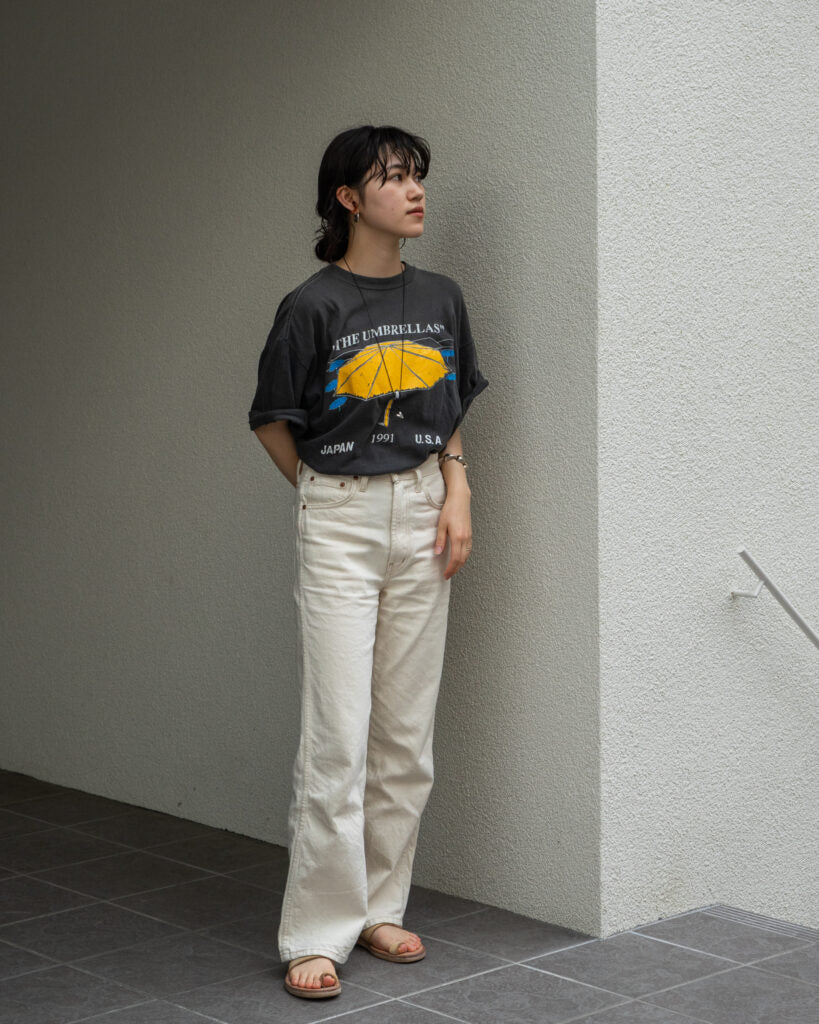 A 90's VINTAGE T-shirt with an impressive umbrella motif. The color of the body is faded black, which is a color that can be mixed and matched with old clothes.

The overall balance is achieved by rolling up the sleeves of the large T-shirt.

Denim is B SIDES JEANS. The silhouettes created by female designers give an elegant impression. For the sandals, we combined DIMISSIANOS & MILLER for a casual yet classy look.
GENTLE FULLNESS T-shirts use recycled cotton in consideration of the environment. The eye-catching large graphic on the front is also a point.

For denim, I chose USED Levi's517. The point is the exquisite flare. BIRKENSTOCK's Zurich is a classic, but it goes well with any outfit.
Kana Vilaró
[MAIDENS SHOP WOMEN STAFF]
・Tops: Vintage
・Pants: Vintage
・Shoes: MAISON EUREKA
・Necklace: ERICKA NICOLAS BEGAY
・Bangle: ZIYA KENYA, Vintage
・Ring: Vintage
The T-shirts are vintage items selected by MAIDENS SHOP WOMEN and tie-dyed by GRATEFUL DREAD . Dyeing is configured according to the color and design of each T-shirt.

The denim is also USED Levi's purchased at MAIDENS SHOP WOMEN. By putting together accessories other than clothes in silver and black, the unique T-shirt blended well with the coordination.
Rintaro Ohashi
[THE STORE BY MAIDENS STAFF]
・Tops: Vintage
・Pants: Vintage
・Shoes: Adidas
・Hat: Studio Kettle
・Bangle: Vintage
The T-shirt is from the Stockholm metal band "Siebenbürgen" formed in 1994.

It has good damage and fading and is worn frequently.

The denim is USED Levi's 501. Classic straight silhouette.

I added accents with silver on hand while putting the whole body together in two tones.
Shinya Makino
[MAIDENS SHOP STAFF]
・Tops: Vintage
・Pants: Vintage
・Shoes: DIMISSIANOS & MILLER
・Hat: ESENSHEL
・Necklace: Pam Dietrich, Ota
・Bracelet: JILL PLATNER, Ota
・Ring: Vintage
・Watch: ROLEX
・Eyewear: Lesca LUNETIER
The Beatles T-shirt is made of paki cotton, which is often seen in band T-shirts in the 70's and 80's. Tight tops and flared denim are reminiscent of hippie style. For accessories, I chose JILL PLATNER , Ota , and ROLEX.

The flared denim was purchased at a used clothing store in Fukuoka called "Are You Different". It has undergone various remakes.

Layered accessories and a hat tighten the casual styling.